Posted by Josh on 26th Nov 2019
In his exclusive online post in the latest issue of MASSAGE Magazine, Til starts talking about most people's posture when sitting all day in an office setting:
Do you feel how that position can immobilize your diaphragm, crowd your solar plexus, compress your abdomen, and make your breath shallower?
He then goes on to mention:
When our diaphragm is free to move, our unrestricted breath billows in and out, rising and falling like gentle ocean waves.
Breathing is an essential part of life, but there is more to it than just letting your diaphragm automatically do all the work.
When laying on a bodyCushion, it supports you on your bony prominences, which lets you breathe deeply without pressure on surrounding organs and musculature. It also allows your massage therapist to access your diaphragm easily without you needing to lay on your back.
Alternatively, when you are lying supine, the bodyCushion relieves tension and lets your body relax in a way that invites the therapist in, rather than resisting the treatment.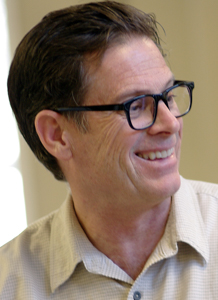 Til Luchau is a Certified Advanced Rolfer and a member of the Advanced-Trainings.com. He has been an advocate of the bodyCushion for years, and one of our long-time educators. He is also an active contributor for MASSAGE Magazine, as well as one of their All-Stars.